Because dangerous and illicit information, video and audio is so easily available, protecting your child's online activities is very important.
The dangers of the internet
The World Wide Web contains a myriad of internet sites with content that is dangerous to children. There are websites with harmful content, pictures, videos and audio, there are websites with violent content and websites where your child could fall victim to sexual predators or could be harassed by website members. Because you cannot always trust your child to show the best judgement when surfing the internet, playing online games or communicating with others on social media, making sure that every safety measure is in place to protect your child is essential.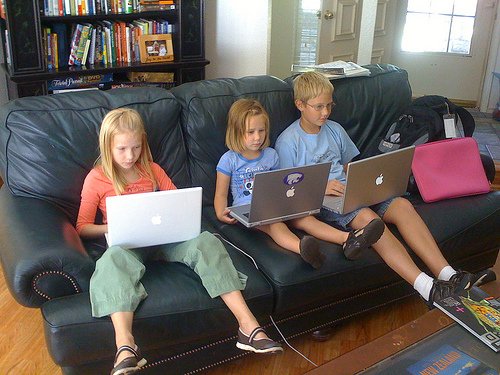 Protecting your child's online activities
There are several ways in which you can ensure your child's safety when they are using the internet. The following are general tips for everyday use:
Keep the computer in a public area in the house like the sitting room or dining room. Do not allow your child to have their computer in their room or in an office or other closed off room. Make sure the screen faces into the room so that your child is aware that you can see what they are doing at any given time.
Check your computer history regularly. Although it is possible for your child to delete their browsing history, it is still a good idea to check regularly to see if they have been on any forbidden websites.
Teach your child what is appropriate and what is not. Have regular, open conversations about what websites they should avoid and why.
Make sure that if your child does stumble on anything inappropriate that they do know how to report it.
Speak to your child about what websites they enjoy and why. Make sure that you know why they are using the internet.
Monitor the time you allow your child to use the internet. Try not to allow them to use the internet late at night or when you are not home.
Using the internet through their cell phone
It is much, much harder to monitor your child's internet usage if they have a cell phone with internet access. Because they can take their cell phones anywhere, including to bed at night, children can very easily go onto websites that are illicit and dangerous. The following tips can help you keep your children safe from the internet on their cell phones.
Take your child's cell phone away at night and during school hours and study time.
Allow your child to use their cell phone at certain times only and with your supervision.
Check their phone history regularly to keep up to date with the websites they are visiting.
The dangers of social media and instant messaging
There are many different social media websites like Facebook and Twitter and instant messaging websites like Mxit, Blackberry Messenger and Whatsapp. Children can easily gain access to these websites through their phones or through their computers. Although websites like Facebook have an age limit for joining, there is nothing to stop children lying about their age to join.
The majority of interaction on websites like these is between friends and with people that your child knows. In order to communicate with someone you must first invite them as a friend or add them as a contact. If they accept, you can then communicate freely. The biggest problem in this sector is abuse and bullying. It is much easier to say hurtful things over the internet than face to face.
However, it is possible that your child might accept a friend request or contact request from a stranger who has intent to hurt them. This is why it is necessary to monitor your child's use of all social media. If you allow them to use these websites, ask for their user names and passwords so that you can keep track of what they are doing. It might also be a good idea to open accounts on these websites yourself and become 'friends' with your children. This will discourage them from doing anything they shouldn't.
Measures that safeguard your children from harm
There are several features you can use to protect your child from illicit contact when they are surfing the web. Google Safesearch and Mcgruff Safeguard are two such services that filter dangerous content from any searches your child might run. You can also visit the Family Online Safety Institute for more information on how to protect your child online.